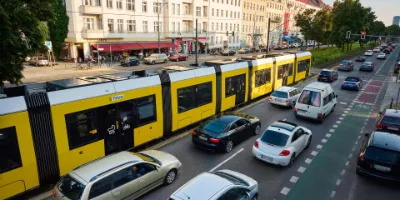 BVG corporate ticket
For employees
Want to get to work quickly and cheaply and get around easily your free time? Our corporate subscriptions are just the thing. And as an added bonus: your employer and the BVG contribute to your subscription.
Comparison between the Deutschland ticket Job and the VBB corporate ticket
Deutschland ticket Job
VBB corporate ticket
Area of validity
Germany-wide
e.g. Berlin AB
Price per month for employees

Price per month for employees

max. 34,30 €
e.g. 43,90 €
Employer contribution
BVG discount
Bring child under 6 years
Bring another person

Bring another person

Bring dog

Bring dog

Bring bike
Transferable
Five steps to the corporate ticket subscription.
Your employer signs up to a corporate ticket agreement with us.
Your internal contact provides you with access data (corporate ticket agreement number and a password).
Use this access data to order the corporate ticket subscription online.
Your order is checked, and, if everything's all right, confirmed by your internal contact within the company.
The ticket is sent as an electronic smart card directly to your home address.
Order now
You already have a BVG subscription? While ordering your BVG corporate ticket via the order portal, you can simply let us know that you wish to cancel your current subscription.

And if you have a subscription from another VBB company? Send them the confirmation of your BVG company ticket order. You can then make use of your special cancellation right.
Your questions, our answers
How can I change my existing BVG subscription to a VBB corporate ticket/Deutschland ticket Job subscription?

You can't just switch over; first you need to cancel your current subscription. If you have a BVG subscription, you can simply cancel it in the 'Personal details' section when you order your VBB corporate ticket/Deutschland ticket Job.

If you have an existing subscription with another transport company, you need to contact the transport company with the order confirmation in order to exercise your special right of cancellation.
How do I get a new VBB fahrCard if mine is lost or stolen?

If your VBB fahrCard is lost of stolen, you can get a new one at one of our BVG customer centres on presentation of valid ID. You can find the current opening hours of BVG customer centres here. Please note that charges may apply according to the subscription conditions.
Can I switch from my existing VBB corporate ticket to a Deutschland ticket Job and vice versa?

No, this is not possible. Please cancel your existing VBB corporate ticket and then order a new Deutschland ticket Job. The same applies if you want to switch from your existing Deutschland ticket Job to the VBB corporate ticket.
How do I get the employer contribution?

The employer contribution is applied directly to your monthly salary by your employer.
Where can I enter a change of address or bank details?

You can enter changes to your bank details and/or address yourself in the corporate ticket
bot (yellow speech bubbles in the right-hand corner of the screen).
Any more questions? Find all our corporate ticket FAQ here.